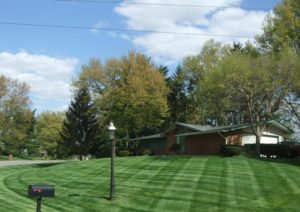 Lawn Mowing
The grass is always greener in Northeast Ohio thanks to Akron Canton Lawn Care. Do you want to give your lawn or landscape the green thumb, boost it needs to make a beautiful statement? If so we can help you create a solution that fits your goals, budget, and property style!
Akron Canton Lawn Care brings years of knowledge and experience to the table, ensuring your project is handled by true professionals in lawn care. We know how important it is to make sure your property is giving off the right impression. Achieving a beautifully manicured lawn or landscape requires an understanding of proper lawn care techniques.
Dependable, Convenient and Professional Lawn Care
Improving the lawn care at your home can increase the beauty and value to your property. Studies show quality landscaping and a properly manicured lawn can add up to 12.7% to the over-all value of your home. A healthy, manicured lawn looks terrific and is in fact the foundation of a beautiful home. But it's so time-consuming that some homeowners give up before they get any results. With our lawn mowing services, you will not have to put in the hard work to get a gorgeous lawn.
Anyone can come and mow your grass, but Akron Canton Lawn Care cares about your lawn. We can give you the best lawn on the block. Now you can have the greener grass on your side of the fence!  Akron Canton Lawn Care takes pride in utilizing our expertise when it comes to mowing your property.
The average customer may not know how imperative proper lawn care can be to the overall health of your lawn. For example cutting the lawn too short, when to stop mowing and leaving large amounts of clippings. Proper trimming not to damage the obstacles and structures in the yard. Mowing patterns not to compact the soil, proper edging that is even or does not gap to widely and proper mower maintenance that could deliver a bad cut damaging the grass. All these factors contribute to how quickly your grass will grow back and how healthy it will grow as well. We specialize in the professionalism of lawn mowing and make sure your lawn care needs are properly met.
At Akron Canton Lawn Care when we mow your lawn we mow at the proper height, with sharp blades and trim around all obstacles. We edge to deliver a smooth beautiful finish. Then blow off your driveway, sidewalks, patios, decks, curbs, street leaving your property looking better than before we arrived.
We have invested in top-shelf commercial equipment to serve our clients better. Our commitment to professionalism also shines through in the way we manage and operate our company. We also take special care to maintain our trucks and equipment in clean and working order to deliver a professional look when at your property.
When you hire Akron Canton Lawn Care you will see how refreshing it is to have an experienced, reliable and professional company that works for an affordable rate to manage all of your lawn care requirements.