Do Not Feed the Weeds in Cuyahoga Falls Ohio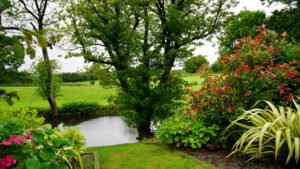 One of the less glamorous lawn care chores is dealing with unsightly weeds in Cuyahoga Falls Ohio. Nuisance weeds are more than just a pest in your landscape, they can do some serious damage if left unchecked. Follow these tips to help eradicate weeds in your lawn and landscape, so you can spend less time on in the dirt and more time enjoying a weed-free landscape in Cuyahoga Falls OH:
Most of your lawn includes weed seeds that just have not germinated yet. Avoid tilling your soil often to avoid putting these unseen weed seeds into fertile soil to keep more from popping up.
Making mulch your friend can be important. Besides the fact that mulch is gorgeous to look at, did you know that it can also help with controlling the weeds? Weeds need the sunlight to germinate and grow, and covering portions of your landscaping with mulch stops weed seeds from getting that light. Bonus with more mulch means less grass to mow and treat!
When you keep your plantings closer together in your landscape beds. You reduce the space between the plants in your garden, the weeds will have less space to grow and more competition for nutrients, water and sunlight.
Hiring a professional to provide lawn treatments to your grass can eliminate the hard work of combating weeds and crabgrass in your lawn. It will also guarantee a professional job of the treatments is performed with no hard work on your end. Usually at a price comparable or cheaper than buying the products and equipment yourself. Using proper weed control is crucial for the health and beauty of your lawn.
Ready to find out more?
Call Akron Canton Lawn Care Now for your Free Estimate on any of our lawn care services
(330) 933-2222 or click the Contact Us button to send us an email.