The benefits of Humic and Fulvic Acid applications to your lawn in Doylestown Ohio.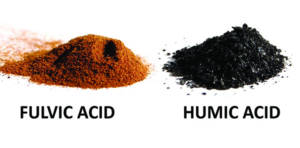 Humic acid helps the soil retain nutrients for your lawn in Doyleston OH. They will not absorbed into the grass, but instead stay in the soil and unlock nutrients that were not available before to the grass. Plus the carbon they add to the soil catches future nutrients much better that makes a food pantry for the grass. So simply Humic acid makes great soil. Fulvic Acids are very tiny are able enter the plant. They help the grass deliver the nutrients from the soil to the plant. It is like boosting the digestive system of the plant.
Humic acid is a natural soil conditioner that acts as an organic binding agent and is a microbial stimulant. It has a unique carbon make up which does include a high concentration of trace minerals and organic acids. Humic acid enhances the grasses ability to take in essential nutrients and improves soil structure dramatically.
Humic acid benefits for your lawn in Doylestown Ohio are:
Increases added soil carbon

Improves overall plant health of grass

Improves germination and viability of the seed
Chelates macro and micro nutrients to increase availability to the plant for a long period of time

Increases cation exchange capacity

Improves soil structure for better water movement

Stimulates beneficial microorganisms, which will improve long-term soil pH
Fulvic vs. Humic acid
Fulvic acid is able to penetrate the cell where humic acid can't. The Fulvic acids have higher oxygen content but lower carbon contents than the Humic acids. Fulvic acids also contain more functional groups of an acidic nature which is good for the plant. Humic acid is not soluble in water under acidic conditions but is soluble always in higher pH values. Fulvic acid is soluble in water under any pH conditions.
Call Akron Canton Lawn Care Now for your Free Estimate on any of our lawn care services
(330) 933-2222 or click the Contact Us button to send us an email.