Weed Control and Fertilizer Service in Springfield Township & Mogadore OH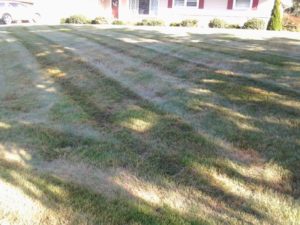 At Akron Canton Lawn Care our goal is to provide top of the line service to help achieve your lawn service goals. Whether it is controlling unsightly weeds, rejuvenating weak thin turf or controlling pests that invade your landscape. We offer only top of the line solutions to fit almost any budget.
With years of experience in the lawn care industry, the staff at Akron Canton Lawn Care has the tools and experience to help you with your fertilization and weed control needs. Fully state licensed and insured to provide you peace of mind knowing that our applications will be effective and also applied responsibly.
Why Choose Us?
We recognize that your time is valuable to you and your family. Our programs are designed to take the guess work out of your lawn care. Eliminate multiple trips to the "big box stores" trying to decide which residential product to control which problem. Then having to start all over when it doesn't work. Wasting an entire Saturday filling sprayers with pesticides and dragging hoses around the entire yard. Then you have to store leftover chemical concentrates, clean and maintain spray cans and spreaders regularly. Then wondering is it safe/legal to just throw away left over chemicals.
Our programs will provide the proper fertilization, weed controls and insect controls to develop and maintain a beautiful lawn in Mogadore and Springfield Township Ohio. Working our program, we guarantee that you'll be satisfied with our service.
Since we are a "pay as you go" service you can rest assured the price you are quoted is the price you pay. No hidden charges or fees! We are a continuous service, even from year to year, so no need to call to schedule individual applications you've already ordered. If you would like to pay upfront for the year you can and receive a discount. You are free to cancel by just notifying us at anytime.
Let us help take the guesswork out of your lawn!
At Akron Canton Lawn Care we understand that each landscape is unique. Our services are designed to develop the proper program to help your landscape thrive. We provide your lawn with the proper nutrients for a greener, thicker, lush and healthier turf. We also offer the most effective materials available to control existing, unsightly weeds in our area. Our pre-emergent program will provide the preventative maintenance needed to control weeds before they appear by applying it twice a year. Instead of the standard one application a year to guarantee superior results. We also offer insect control for turf damaging insects just waiting for the opportunity to feast on your healthy lawn. Most of the time hiring us can be comparable to doing it yourself with less effective fertilizer and weed control.
44278 | 44305 | 44306 | 44312 | 44319 | 44685
Ready to get started?
Call Akron Canton Lawn Care Now for your Free Estimate on any of our lawn care services (330) 933-2222 or click the Contact Us button to send us an email.
Ready to find out more?
Would you like to learn more about Fertilization and Weed Control? Follow this link to find out more.
| Fertilization Service and Weed Control Mogadore & Springfield Township, OH | 44312 | 44260 |