Make Your neighbors in Akron Ohio Green with Envy!
Akron OH professional lawn care service for your Fertilizer and Weed Control needs.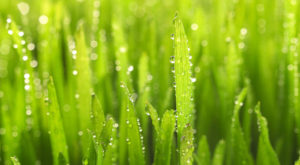 One of Akron Canton Lawn Cares licensed and uniformed State Certified Technicians will visit your property five or six times throughout the season depending on the program you choose. After the evaluation of the particular needs of your lawn, the appropriate fertilizer and weed control treatments will be carefully applied.
We use a complete granular time-release fertilizer balance with Iron and Sulfur that is best to use in our local soils here in Akron Ohio. Iron improves the color of your grass without increasing growth rate. Sulfur conditions the soil and will significantly help the lawn through the unpredictable summer conditions. We have found that the best method of weed control is through the careful application of professional liquid products to your entire lawn. Akron Canton Lawn Care has perfected our method of treating any weed when we visit. We apply two applications of crabgrass control instead of the typical one application to ensure no crabgrass in your lawn.
We use professional grade top of the line equipment that digitally controls and measures the product being applied. To ensure proper application and perfect results when you go with Akron Canton Lawn Care. 100% satisfaction guarantee and you can cancel at anytime. Most of the time it is comparable or cheaper to hire us than trying to apply treatments yourself with residential grade equipment and products.
Additional Services we offer:
Ready to get started?
Call Akron Canton Lawn Care Now for your Free Estimate on any of our lawn care services (330) 933-2222 or click the Contact Us button to send us an email.
Ready to find out more?
Would you like to learn more about Fertilization and Weed Control? Follow this link to find out more.
| Fertilization in Akron, OH| 44333 | 44301 | 44302 | 44303 | 44304 | 44305 | 44306 | 44307 | 44308 | 44310 | 44311 | 44312 | 44313 |44314 | 44319 | 44320 | 44321 |